Four Compliant Pool Fencing Options
If you are looking at building a pool in your home, you should look into the available pool fencing options as well as existing laws. Pool certification laws have been introduced by the Australian Government In 1991 to reduce or prevent the risk of drownings. From time to time, adjustments are made to those laws to ensure compliance and safety especially among children under five years of age who are identified as the most at risk for drowning accidents.
Basic Pool Fencing Regulations
Pool fencing must have a minimum height of 1.2 metres when measured from the outside of the fencing.

Boundary fences must not be lower than 1.8 metres.

The material for the pool fencing must be durable and can't be broken through.

If gaps are present in the pool fencing, their size should be small enough so that children won't fit through the gaps

A gap of no more than 100mm between the bottom of the fence and the ground must be maintained.

Pool fencing should be designed to prevent children from scaling the fence.

Self-latching and self-closing pool gates must be used to prevent the unsupervised entry of children into the pool area.

Pool latches must be used and installed inside the fence to keep children from being able to open the gate.
Aside from compliance, pool fencing helps you supervise people who can have access to your pool. It will give you peace of mind that your pool doesn't pose safety risks to children. If you're worried that pool fencing might get in the way of your home design, there are actually several pool fencing options that can beautify and even add value to your home.
Glass Pool Fencing
If you're looking for a pool fence that both offer safety and aesthetics, consider a glass pool fencing. With slippery glass panels that are hard to climb, you can be assured that kids won't be able to access your pool without your permission or without using the pool gate. Another advantage is that it's easy to clean so maintenance should be swift.
NOTE: Choose glass pool fences that are tested by NATA accredited engineers to ensure that they conform to the National Construction Code, Building Code of Australia and Australian Standards.
PVC Pool Fencing
Is budget a concern? You can opt for the least expensive options like PVC. Unlike glass pool fence that usually comes with a price, PVC pool fencing is the more affordable option. Aside from blending in with your home design, you should also check if the installation is sturdy enough to serve its purpose.
Aluminium Pool Fencing
This type of pool fence is preferred by many because it is the more affordable option for those who want aesthetically pleasing pool fencing. Like a glass pool fence, it is elegant. It is also quick to install so having one for your home should be very convenient.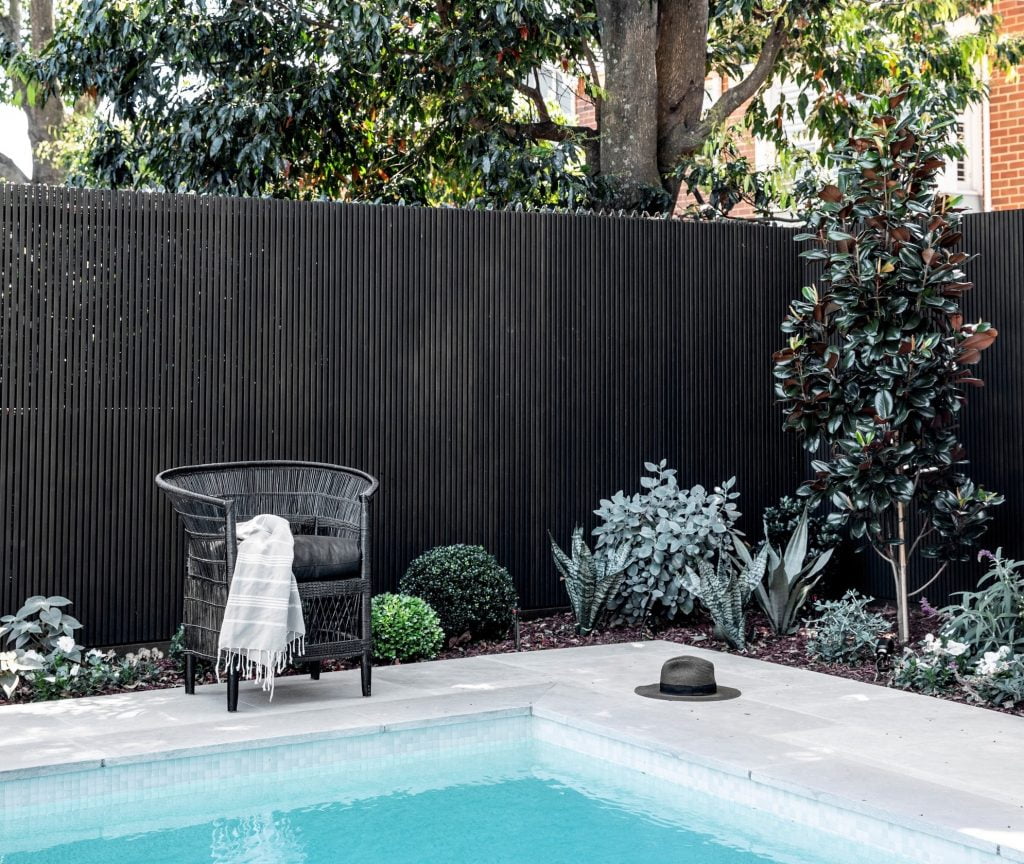 Bamboo Pool Fencing
If what you want is a more sustainable option, bamboo pool fencing is a suitable choice. With bamboo as the main material, you can utilise an environment-friendly alternative to the usual pool fences. Not only that, bamboo has the characteristics that make it blend well in a pool setting. It has a tropical appeal that can give a fresh new look to your space. You can also choose among bamboo slats, bamboo rod screens, bamboo privacy screens, and other designs to meet your aesthetic considerations.
ALSO READ: 75 Timber Slats Design Inspirations that Can Be Replaced with Bamboo