6 Privacy Screens Solutions To Keep Your Home Hidden From Your Neighbours
Australia's real estate is a booming industry. And while properties tend to go bigger and higher while plot sizes decrease in size, there is also a huge tendency for your privacy to be compromised.
According to lawsociety.com.au, in NSW, "there is no legal right to public privacy so, if a neighbour can see into your backyard, they're allowed to look at or listen to what's going on. Besides asking your neighbour to stop, one thing you can do is to try to block their view by building a higher fence".
Of the two options, the one that will put you in better control of your privacy is building a higher fence. However, there are council restrictions around boundary fencing height that might limit what you can do. On the other hand, the installation of a privacy screen is also a suitable alternative to block your neighbours. To help you decide what is the best privacy solution that can keep you away from the prying eyes of your neighbours, we've put together a list of natural materials that can be used as privacy screens. 
1. Bamboo Rod Privacy Screen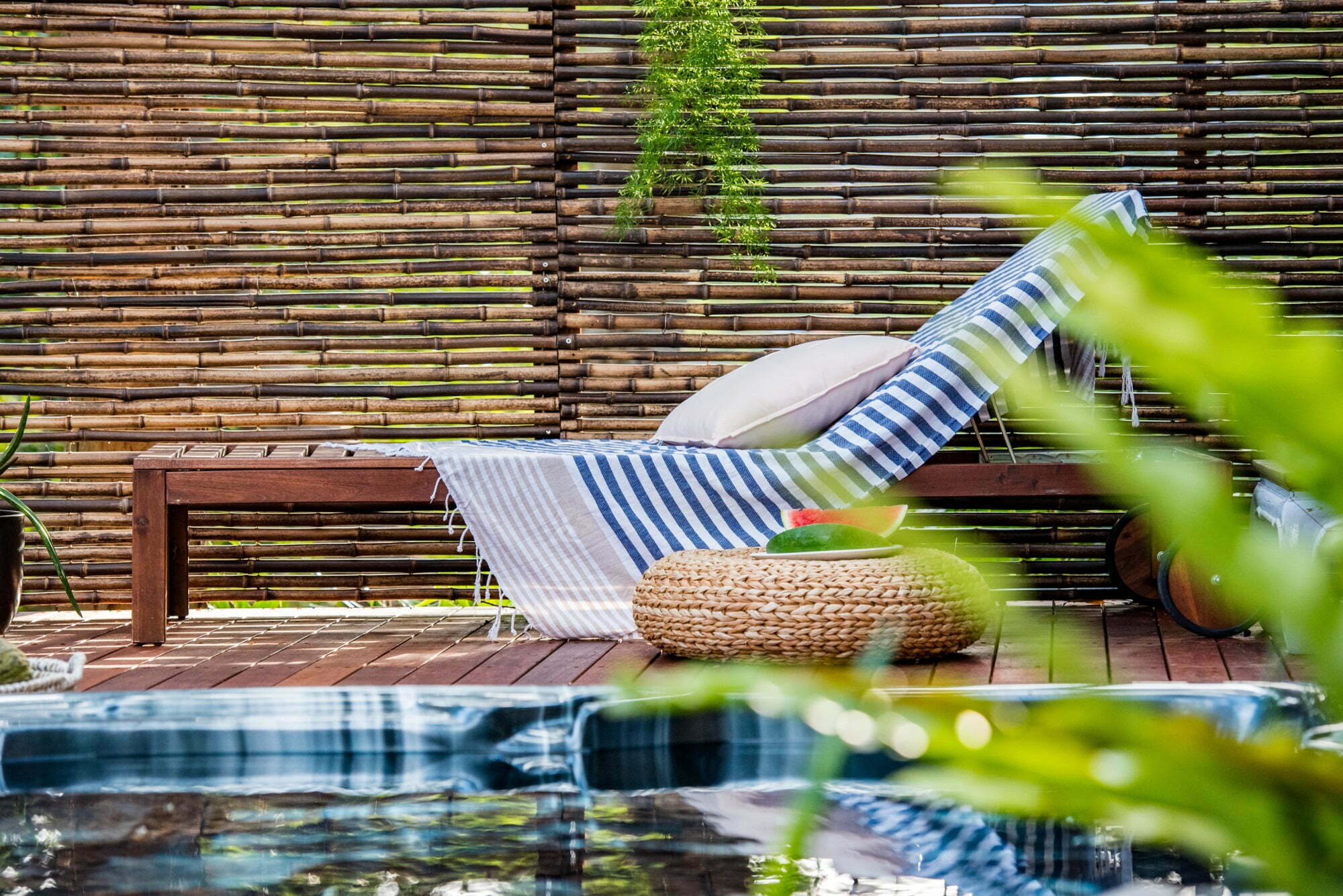 For privacy screen solutions that don't block the view, bamboo rod privacy screen is your best choice. It provides the privacy you need while allowing light to filter through and can easily be removed when needed. It can also be used to add more height to your existing fence and the concealed stainless steel binding at its core makes it a suitable option for coastal properties exposed to the elements.
Uses: property fence, pool fence, or privacy screen
2. Slatted Screens
A great alternative to bamboo rod screens, slatted bamboo timber screens will give a clean and contemporary look to your fencing. Elegant and eco-friendly, these screens can be used for a range of purposes including pool certification, privacy screens or to hide unsightly elements such as garbage bins and air conditioning units.
Uses: standalone screening, horizontal or vertical installation, fencing and pool certification
3. Bamboo Poles
Bamboo poles are available in a variety of diameters and lengths, making them a versatile privacy screen solution.
Uses: temporary or permanent screening for events, interior design, and landscaping
4. Outdoor Bamboo Blinds
Bamboo blinds are a very popular interior design feature but they can also be used outside as a versatile privacy screening solution. This is a functional and stylish solution that does not block the light or air flow and comes with the convenience of being adjustable at any time.
Uses: indoor and outdoor use, fits traditional and contemporary homes
5. Natureed®
Our trademarked product Natureed® has been used for decades by landscape designers such as Jamie Durie and Brendan Moar. Crafted from the finest quality water reeds, Natureed® contains up to 50% more reeds than similar products on the market. It is a natural water reed with a reddish hue, similar to merbau and bound with stainless steel. Extremely durable, it's naturally resistant to water and termites. Fit for any use, whether indoors or outdoors and extremely lightweight, Natureed® can easily be attached to existing structures making it an ideal material to achieve pool certification quickly.
Uses: boundary fence, pool certification, shading or privacy screen
6. Decorative Screens
Add privacy right into your home without sacrificing design and aesthetics. If what you need is a beautiful addition to your property, you can take advantage of decorative screens that also work as shading solutions.
Uses: outdoor screening, gardens, pools, landscaping.
Whether you have found the right solution to your privacy needs or are still unsure what option would be best suited to your space, call us on 1300 665 703 or fill this form to discuss your project and our Design Consultants will help you pick the ideal solution to make your home feel more private.