Everything You Need To Know About Timber Screens
You've finished landscaping your garden and installing a barbecue pit in your yard. When you step back and look at your property, however, you can't help feeling that it's still missing the finishing touches to make your property private, stylish, and welcoming all at once. 
How about putting up some stylish timber screens?
Timber is a classic screening material, and for good reason. Versatile timber screen designs can range from rustic to elegant to modern. Here's everything you need to know about timber screens.
Popular Varieties of timber: one of the first steps to installing a timber screen is choosing the type of wood that best fits your tastes. You might initially be overwhelmed by all the varieties available. What's the difference between a hardwood and a softwood? Should you choose merbau over jarrah, or vice versa? And what are your options if you want a timber screen that's specifically coffee-coloured?
To help you, here's a brief comparison between hardwoods and softwoods.
Hardwoods
Generally more dense than softwoods, hardwoods are fire-resistant and understandably a bit more costly than softwoods. Here are some hardwood types often used for timber screens:
Merbau. Also known as kwila and ipil, this hardwood is often sourced from Southeast Asia, island nations in the Pacific, and northern Queensland. You'll find this timber in warm red-brown tones. Don't be surprised to find golden flecks in merbau, as these flecks are part of the timber's charm!
Kempas. Thanks to dense and interlocked grain, kempas timber can be incredibly strong, as well as somewhat heavy. It also boasts of resistance to fungi and wood borers. As for colours, kempas commonly comes in orange-red or yellow-brown hues. This timber accepts stains and finishes well. Tanins are common so be careful when installing as they tend to stain.
Jarrah. Australian in origin, jarrah is prized for its durability and versatility. It often comes in rich brown to dark red colours, but it also accepts most finishes well. Moreover, it can also be highly polished for an elegant-looking timber screen.
Spotted Gum. This popular hardwood also grows in Australia! Spotted gum is hard enough to be used in numerous applications, from docks to polo sticks to screens in your backyard. Its colours range from light coffee brown to dark chocolate with a tinge of red.
Acacia. You might also know this timber as "blackwood." Acacia timber is easy to work with and can be polished to a shine, making it suitable for indoor timber screens. The heartwood of the acacia tree is a rich, golden brown colour, with growth rings adding reddish streaks.
Teak. This Asian timber is highly prized for its natural oil content, which makes it water resistant. It also has a waxy or greasy texture as a result. Teak colours can range from yellowish white to golden brown.
Iroko. Sourced from Africa, iroko timber started out as an alternative to teak. It is now a popular timber screening option in its own right, however! Iroko comes in light brown, golden orange, and dark brown.
Softwoods
Despite their name, softwoods are just as suitable for timber screens as hardwoods. However, these timbers are generally lighter and cheaper compared to hardwoods.
Pine. Whether it's sourced from California, New Zealand, or Australia, this cost-effective softwood can be treated to resist both pests and the elements. It is naturally yellowish or whitish in colour. However, it'll also look lovely with a proper stain.
Douglas Fir. Also known as Oregon, Douglas fir can be harvested from either North America or New Zealand. You'll often see Douglas fir timber in light maple tones, although some specimens can range in colour from yellow brown to pale reddish brown.
Red Cedar. It's versatile, lightweight and durable. Red cedar timber ranges from pale brown to dark reddish brown, though its heartwood, in particular, can have a pink tone at first. As it ages, cedar begins to take on a beautiful grayish tone. It can give off a pleasing aroma if left unsealed for an indoor screen.
Bamboo Timber
Bamboo might not technically be a timber since it is a type of grass but its natural characteristics coupled with modern engineering makes it a very sustainable alternative to timber. Bamboo produces 35% more oxygen than trees and is ready to harvest in as little as 5 years, as opposed to 80 years for Tasmanian oak for example. This flash growth means it can store up to 4 times more carbon dioxide than trees making it a material of choice for specifiers committed to achieving net zero goals. And last but not least, its complex root system binds the earth together, restoring soil health and fighting against soil erosion.
Bamboo not only provides a similar finish to timber, it is also much lighter than hardwoods and harder than softwoods, making it easier to install and extremely durable. Our engineered bamboo received the highest certifications from Global GreenTag guaranteeing sustainable manufacturing practices and non-toxicity.
Common Types of Timber Screens
Once you've decided on the type of wood you want for your timber screen, you'll need to choose a design. Would you prefer horizontal slats, vertical slats, or playful lattice? Read more about your timber screen design options below.
Strips of timber laid horizontally can add modern flair to your property. This kind of timber screen can also make your garden look more spacious. They'll also fit nicely into a feature wall or a unique contemporary facade.
A timber screen made of tall vertical slats is a stylish way to secure pool certification, as little swimmers will find them impossible to climb! You can also combine vertical and horizontal slats for a one-of-a-kind parquet screen.
Lattice timber screens are both classy and easy to install. In some cases, they just need to be framed up or fixed to existing posts. These timber screens are also perfect for older properties, thanks to their timeless charm. You can grow vines on them if you install them outdoors, too.
Timber Screen Finishing Options
Even the loveliest timber screen will neither last nor look its best without a proper finish! You can use any of these five finishing options on your screen as the final step.
1. Oil
Installing a timber screen made of rich teak, kempas, or merbau? Let the natural colours and grains of your timber screen shine through with an oil finish. Oils penetrate into the timber, sealing and protecting it without changing its look too much. It can also enhance the material's natural colour.
2. Stain
Want to play with the colour of your timber screen? Go for a stain, which will be more pigmented than a decking oil. The pigment in stains can grant protection against UV rays, keeping your timber screen from greying easily. Just remember to add a coat of varnish on top.
3. Varnish
Varnishes are your best bet for clear or natural finishes. More often than not, they create a hard and shiny surface when they dry. Outdoor screens will benefit from the waterproofing effect of long oil varnish, while indoor screens are a perfect match for medium or short oil formulas.
4. Paint
Paint won't just give your timber screen a vibrant colour, but it can provide a great deal of sun protection, too! Both water-based and oil-based paints will look great on timber, as long as it's first coated with primer.
5. Wax
A classic timber finish that has been used for centuries, wax is easy to apply and leaves a rich, natural look. It can waterproof your timber screen and keep it from greying, too. Interestingly, you can apply wax over any other finish, let it dry, and buff with a soft cloth for extra shine.
How to Maintain Timber Screens
Once you've oiled or stained your screen, it will age and usually grey off unless you maintain it. Here are some tips you'll want to keep in mind.
Refinish Timber Screens Regularly. Dirt, grime, and moss are just some of the gunk that can accumulate on the surface of your timber screen over time. The timber may also gradually turn grey. To revive an aged timber screen, first, give it a good pressure cleaning with a 25-degree tip. Then, add a fresh layer of finish.
Repair Damage Quickly. Does your timber screen now feature a crack or a broken section? You'll want to fix that as soon as you can to keep the damage from worsening. Feel free to ask for professional help to ensure that the job is done right.
Trim Nearby Plants. Bushes and branches easily retain moisture, which can eventually pose a problem for your timber screen. They might also block the view of the screen itself. Aside from that, an unkempt garden itself can be a stressful sight.
Prevent Termite Infestations. Inspect your screen for termite droppings and mud tubes, which can be early signs of a termite problem. It also helps if the timber screen is regularly subjected to sunlight. There are also certain plants, like catnip or velvet grass, which are being studied for their termite-repellent properties.
3 Advantages of Timber Screens
1. Versatility
You'll be amazed at the number of creative ways you can use timber screens. Position it in your front yard, use it to round a pool, install it on a balcony, or let it hang over a porch for some interesting shading. You can also divide spaces using timber screens while maintaining an open feeling and letting sunlight through.
2. Privacy
A slatted timber screen with closely spaced pieces can serve as a classy privacy screen. You can also choose to make the slats overlap for complete seclusion. A lattice timber screen with lush climbing vines will do the trick just as well.
3. Aesthetics
The right timber screens can enhance the look of your property. Think of timeless facades paired with contemporary slatted screens. No wonder countless architects and engineers have brought timber screens into their designs.
3 Stunning Bamboo Timber Screen Ideas to Inspire You
Bamboo timber screens can be used for a wide range of applications, from fencing and screening to shading and cladding. Here we look at how you can use slatted bamboo timber screens to secure your pool certification, get some privacy or subtly separate rooms.
Pool Fencing (Suitable for Pool Certification)
With their stylish timber slat look, slatted engineered bamboo screens are perfect for contemporary designs. Available in raw, teak or black and in five different widths and batten profiles, they allow you to completely transform an old paling fence while getting your pool certified.
Privacy Screen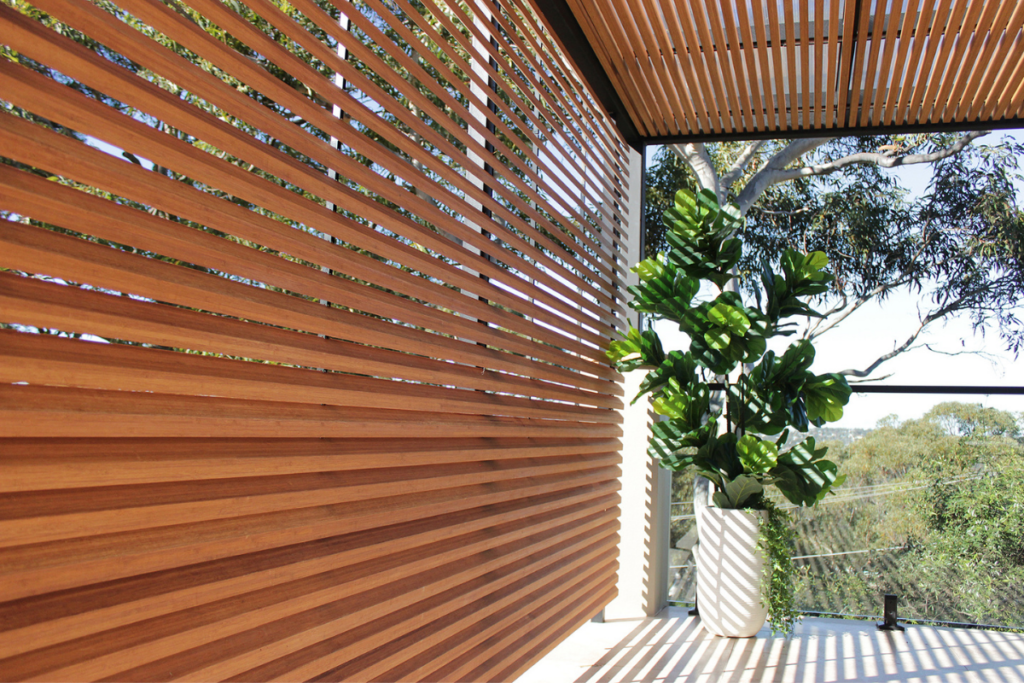 Hide your neighbours or surrounding unsightly views without blocking light or air flow with slatted bamboo timber screens. Our SeaChange Series® is available in five different batten designs named after Australia's iconic beaches (Cottesloe, Torquay, Noosa, Sapphire and Sorrento) and all our screens have received the highest certifications from Global GreenTag: a GreenRate Level A and a Platinum Health Rating, guaranteeing sustainable manufacturing practices and non-toxicity.
Sliding Doors and Room Partitions
If you want versatility, bamboo timber screens can be used as sliding room partitions allowing you to alternate between open plan living and distinct rooms. For this project, the owner wanted to separate the gym from the outdoor living space and have the flexibility to hide the space when not in use. The screens needed to be suitable for external use which our Torquay slatted screens achieved perfectly.
For more inspiration, browse our Portfolio here or visit our showrooms in Sydney and Brisbane.