Pool Certification – Bamboo Cladding for Pool Safety
Many of our clients come to us to get their pool certified as all of our natural fencing options can be used to match the required standards for pool boundary fencing. Whether you are after an organic or contemporary look, we can help you obtain your pool certification quickly.
Here are all the options you can choose from to get your pool boundary fence certified with House of Bamboo.
Bamboo Screens
For an exotic Bali-inspired look, choose bamboo screens to clad an existing ugly fence. Bamboo screens are extremely sturdy, weather resistant, easy to maintain and will add a touch of natural elegance to your pool area. We have various heights and colours to choose from and they can easily be attached to an existing structure. They are the quickest way to achieve your pool boundary fence certification with minimum cost and labour.
You can retain your existing fence and use its structure to attach our bamboo rod screens. This will save you money on not having to rebuild a new fence.
Pictured: Black Bamboo Rod Screens
Natureed®
Our trademarked product Natureed® has been used for decades by landscape designers such as Jamie Durie and Brendan Moar. Crafted from the finest quality water reeds, Natureed® contains up to 50% more reeds than similar products on the market. It is a natural water reed with a reddish hue, similar to merbau. Extremely durable, it's naturally resistant to water and termites. Fit for any use, whether indoors or outdoors and extremely lightweight, Natureed® can easily be attached to existing structures making it an ideal material to achieve pool boundary fence certification quickly.
Pictured: Compliant pool boundary fence composed of Natureed® panels and engineered bamboo screens.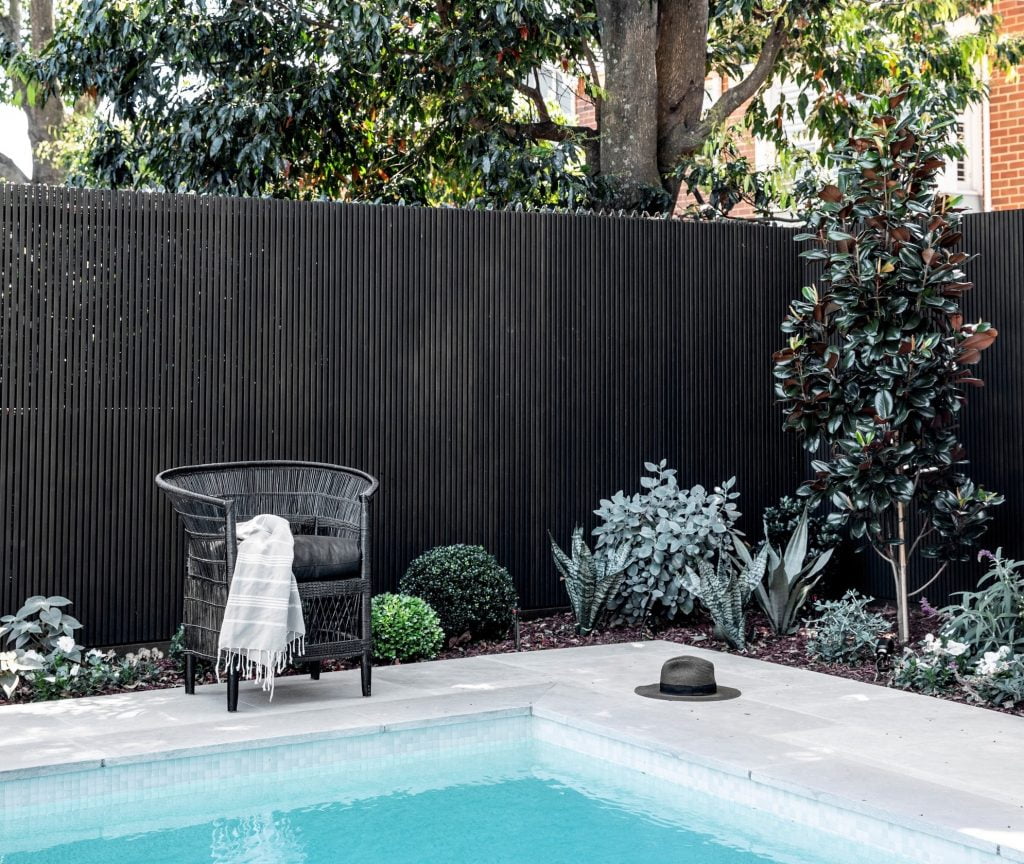 Slatted Bamboo Timber Screens – SeaChange Series®
With their stylish timber slat look, slatted engineered bamboo screens are perfect for contemporary designs. Available in raw, teak or black and in four different profiles, they allow you to completely transform an old paling fence while getting your pool certified.
After spending a considerable amount on a new pool the boundary fence is the finishing touch to really complete the project and give it a wow factor.
Pictured: Black Torquay Boundary Fence by LivingLot.
Slatted Bamboo Timber Cladding – Symphony Series
If you want full coverage, our solid bamboo timber cladding might be the solution for you. Made from sustainably sourced bamboo, our Symphony Series received the highest certifications from Global GreenTag: a GreenRate Level A and a Platinum Health Rating guaranteeing sustainable manufacture and non-toxicity. Available in several design options with varying slat widths, it compliments beautifully any pool area.
Pictured: Cello 1 Pool Boundary Fence Cladding
For more inspiration, browse our Fencing & Screening solutions here or visit our showrooms in Sydney and Brisbane.